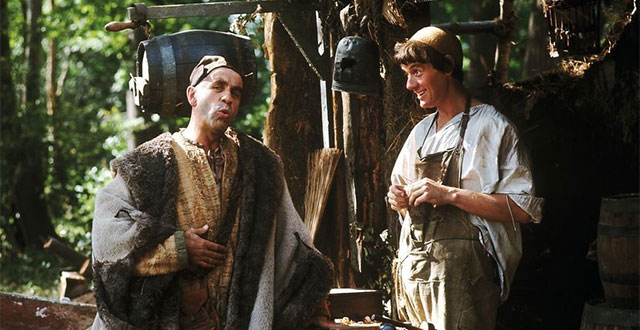 The 61st BFI LONDON FILM FESTIVAL In Partnership With AMERICAN EXPRESS® Announces Full 2017 Programme
08/31/2017
The 61st BFI London Film Festival in partnership with American Express® today announces its full programme, featuring a diverse selection of 242 feature films from both established and emerging talent. This 12 day celebration of cinema illustrates the richness of international filmmaking, with films to delight and entertain audiences, and also films that probe and interrogate issues of significance.
The Festival is the UK's leading and most prestigious film festival, representing one of the first opportunities for audiences – both the UK public and film industry professionals - to see the very best new films from across the globe, alongside an events programme with some of the world's most inspiring creative talents. This year, the Festival will host 28 World Premieres, 9 International Premieres and 34 European Premieres and will welcome a stellar line up of cast and crew for many of the films.
The 242 feature programmes screening at the Festival include: 46 documentaries, 6 animations, 14 archive restorations and 16 artists' moving image features. The programme also includes 128 short films, and 67 countries are represented across short film and features.
Each evening of the Festival sees a Headline Gala presentation at Odeon Leicester Square. Films in Official Competition and Strand Galas are once again presented at the 820-seat Embankment Garden Cinema following a successful inaugural year in 2016, with audiences and filmmakers alike praising its quality of cinema experience. This temporary venue, constructed to the highest technical specifications, brings the festival to even more people and connects screenings in the West End with the BFI's home cinema at BFI Southbank.
Alongside the Galas, Special Presentations and films in Competitions, the Festival will show a thrilling range of new cinema in sections Love, Debate, Laugh, Dare, Thrill, Cult, Journey, Experimenta and Family – which provide pathways for audiences to navigate the programme. In 2017, the LFF presents a new strand, Create, featuring films that celebrate artistic practice in all its channels and forms the electricity of the creative process, reflecting London's position as one of the world's leading creative cities.
Audiences have the opportunity to hear some of the world's creative leaders through the Festival's acclaimed talks' series LFF Connects, which features artists working at the intersection of film and other creative industries, and Screen Talks, a series of in-depth interviews with leaders in contemporary cinema. Participants this year include Julian Rosefeldt & Cate Blanchett, David Fincher, Demis Hassabis, Nitin Sawhney, Johan Knattrup Jensen, Ian McEwan and Takashi Miike.
As one of the few film festivals in the world to be staged in a production capital, the Festival takes its place as a jewel in the crown of London's cultural calendar, channelling the excellence of one of the world's most vibrant cultural cities, and highlighting the enormous wealth of talent working in film today, both behind and in front of the camera. Alongside the industry programme and Awards, the Festival proudly acts as a launch pad for new as well as established voices, and supports filmmakers throughout their career aiming to interrogate how film and filmmaking reflects – and reflects on – our society.
The BFI London Film Festival each year provides a vibrant forum for the exchange of ideas, with films stimulating debate and shining a light on pressing social and political issues. This year a number of 'talking points' ripple through the Festival programme, including:
• LBGT – In the year of the 50th anniversary of the partial decriminalisation of homosexuality in England and Wales, the Festival presents a powerful LGBT line-up.
• Immigration and Social Division – Two of the defining themes of our times are explored by filmmakers who are committed to telling powerful and complex stories about borders – both real and psychological.
• Black Star – Following the BFI's landmark season celebrating the range, versatility and power of black actors in film, recent world events give new urgency to questions of opportunity, and basic human rights.
• Visionaries – Cinema remains one of the most exhilaratingly kinetic and visually potent storytelling forms, and many filmmakers this year impress with the singularity and power of their vision, with keen imagination and dazzling style.
• Thrill – It's a very strong year for global thrill seekers at the Festival, with a particularly strong showing from East Asia, which comes as the BFI embarks on the UK-wide season BFI Thriller, exploring how the genre reflects societal upheavals, fears and anxieties.
• Strong Women – The Festival continues to shine a light on strong women behind and in front of the camera. At this year's Festival, 61 women directors are represented in the feature film selection, approximately 25% of the programme.
• Deafness and disability – Both feature with marked prominence in this year's Festival programme, though the film industry still has a long way to go in terms of representation for disabled people. The Festival's industry programme will include a partnership event on equality of opportunity and expression for deaf and disabled people working in film & television.
The Festival takes over screens at fifteen venues across the capital, from the West End cinemas – Vue Leicester Square and the iconic Odeon Leicester Square; central London venues – BFI Southbank, BFI IMAX, Picturehouse Central, the ICA, Curzon Mayfair, Curzon Soho, Empire Haymarket, Prince Charles Cinema and Ciné Lumière; and local cinemas – Hackney Picturehouse , Rich Mix in Shoreditch and Curzon Chelsea. Special screenings will also be held at the National Gallery and the Barbican, and several key events will also be cinecasted to cinema venues around the UK.
"It is a delight to welcome some of the most thrilling storytellers from across the world to the Festival – we love to watch and engage with the extraordinary conversations that the Festival brings to our doorstep with every edition," comments Amanda Nevill, Chief Executive, BFI. "London has a big heart and this year we are again reminded of the generosity and freedom of this awesome capital city of ours which so readily embraces this multiplicity of cultures and new voices. This creativity is reflected across the UK and the engine that is enabling filmmaking to thrive, supported by a favourable fiscal environment, outstanding skills and talent and ever expanding infrastructure and facilities."
"In these globally tumultuous times, filmmakers around the world have increasingly urgent stories to tell and more reasons than ever to reimagine our reality," comments Clare Stewart, Festival Director. "This year's BFI London Film Festival programme is rich with opportunity – to stay informed, be challenged, feel the pleasure of escape and see the world differently."
Whether it's short films or documentaries, live action or animation, audiences should find a film to suit their passions - and with a range of ticket options, including family ticket prices and £5 rush tickets for under-25s, the Festival will bring the vibrancy of the world's film industry to as many people as possible, offering an unparalleled experience to see the films that everyone will be talking for months.
GALAS
OPENING & CLOSING NIGHT GALAS
As previously announced, the Festival opens with the European Premiere of BREATHE, the directorial debut of Andy Serkis, on Wednesday 4 October. Adventurous and charismatic, Robin Cavendish (Andrew Garfield) has his whole life ahead of him when he is paralysed by polio whilst in Africa and given just months to live. Against all advice, Robin's wife Diana (Claire Foy) brings him home from hospital where her devotion and witty determination inspire him to lead along and fulfilled life. Together they refuse to be limited by expectations, dazzling others with their humour, courage and lust for life. A live cinecast brings all of the excitement from Leicester Square to simultaneous screenings taking place at cinemas across the UK.
Press Release
---
News Archive
2021
2020
2019
2018
2017
2016
2015
2014
2013
2012
2011
2010
2009
2008
2007
2006
2005
2004
2003
2002
2001
1999
1998
1995
1990
---
---
Back to News