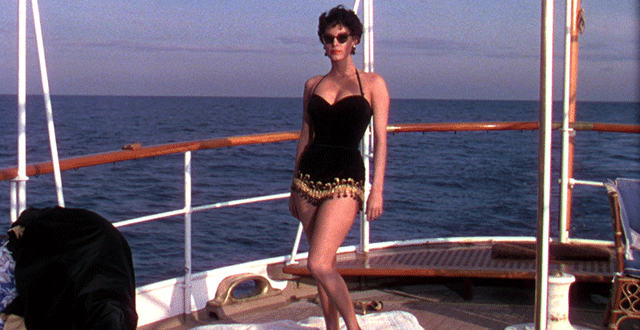 COMMEMORATING 30 YEARS OF TFF
09/16/2020
The Film Foundation has facilitated the restoration and preservation of two films by Joseph L. Mankiewicz. One of them, All About Eve, is one of the enduring classics of world cinema. The other, The Barefoot Contessa, restored by UCLA, is certainly well known but it's less often discussed now. My wife and I took a fresh look at it about a month ago and we were both amazed and moved.
There have been many Hollywood movies about Hollywood that operate under the pretense of frankness but that, in the end, are nothing of the kind. I'm a fan of Vincente Minnelli's films, but The Bad and the Beautiful and Two Weeks in Another Town, wild melodramas set in the milieu of Hollywood (and Hollywood on the Tiber), have a refracted, prismatically re-directed view of Hollywood itself. The same is true of George Cukor's 1954 remake of A Star Is Born, a film that I love. But The Barefoot Contessa—shot in stunning Technicolor by the great Jack Cardiff—really stands alone, because it looks directly into the face of the ruthless exploitation of women practiced by powerful men in and around the world of big budget moviemaking. Ava Gardner's Maria Vargas is courted by one filthy rich man after another (played by Warren Stevens, Marius Goring and Rossano Brazzi), each of whom promises glory but delivers possessiveness and a increasingly refined forms of debasement. It's impossible to overestimate how rare such frankness and brutal honesty were during the high Hollywood era. Most movies made after the establishment of the production code, even great ones, fell back into soft cushions of decorous gentility when it came to wealth and power, and the ruthlessness was assigned to a few bad apples. Here, it's the way almost everyone operates. It's interesting to compare the publicists played by Jack Carson in the Cukor film and by Edmund O'Brien in The Barefoot Contessa. Carson's character is judged to be mean and crass…by Charles Bickford's kindly studio head! O'Brien's unctuous, sweaty Oscar veers in the direction of whoever holds the power in any given situation, and for him, the virtues of honor, fidelity and respect espoused and practiced by Humphrey Bogart's director are sentimental holdovers and beside the point. And there is absolutely no gentility whatsoever in Mankiewicz's portrait of the jet set gathered around the roulette tables and the watering holes of the Riviera. They are lowlifes in fashionable dress.
At the emotional center of The Barefoot Contessa is Bogart's Harry Dawes, the man who makes Maria a star fully knowing that it will ultimately lead to her destruction. No other actor could have played the role. From the 40s on, Bogart was one of the greatest artists in movies, and this is one of his most beautiful and heartbreaking incarnations of broken disenchantment.
- Kent Jones
Follow us on Facebook, Instagram, and Twitter!
The Film Foundation
---
News Archive
2021
2020
2019
2018
2017
2016
2015
2014
2013
2012
2011
2010
2009
2008
2007
2006
2005
2004
2003
2002
2001
1999
1998
1995
1990
---
---
Back to News