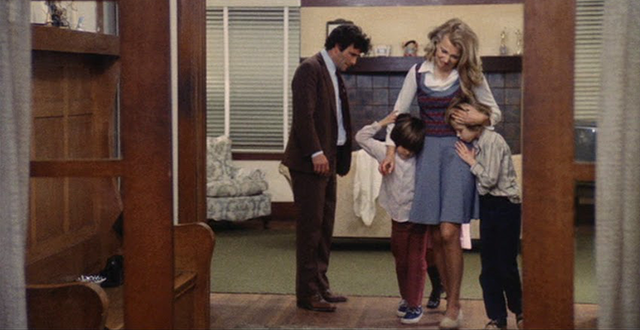 COMMEMORATING 30 YEARS OF TFF
11/24/2020
As people around the country are about to celebrate Thanksgiving away from their loved ones, I suppose that many of us are contemplating the meaning of the holiday in the abstract, formed from memories of Thanksgivings past. The cultural trappings are one thing, but the understanding of what sets this day apart from Christmas or Passover or Eid is something entirely different. I suppose that Thanksgiving is notable for being an entirely secular national holiday that is observed as reverently as a religious holiday. When I was young, it embodied a spirit of generosity. I wonder if that's still the case. What it has come to mean is family with a capital F, with all its contradictions and heartbreaks and glories.
There are a couple of movies that The Film Foundation has helped to restore that bring the spirits of past and present to mind. When I was young, Alfred Hitchcock's Saboteur, restored by the Library of Congress, was written off as a lesser film by many people, including Hitchcock himself. It was a dry run for North by Northwest, it had too many ideas in it, the lead and the villain were miscast, and so on. At this point I've seen the film many times, and it seems to grow with each viewing. Robert Cummings' defense plant worker, wrongfully accused of committing sabotage and killing his best friend, goes on a cross-country journey much like Cary Grant's in NBNW, but along the way he is met by good Samaritans who discard all doubt as they recognize the goodness he emanates—a long haul trucker, the members of a circus troupe and, most movingly and magically, a blind man who lives alone in the wilderness played by a wonderful old theatre actor named Vaughan Glaser.
In the matter of family, I'm thinking of John Cassavetes' A Woman Under the Influence, restored by UCLA, in which family is the bedrock and the stumbling block, the crucible and the sustaining power. It's family that drives Gena Rowlands' Myrtle to madness, and it's family that grounds her and lights her from within. The miracle of Cassavetes' film is that it embodies these opposing forces and states all at once. Myrtle waiting anxiously for her kids to come home from school…Peter Falk as her helpless touching husband trying to decree that everything be normal again, Falk's mother (played by Cassavetes' own mother) casting a cold eye on her daughter-in-law one minute and later urging her son to go easy on her, the entire extended family rendered speechless as they watch Myrtle fly off into the stratosphere once again…it's all the chaos and swirling and criss-crossing impulses and emotions of family in one movie, joyous and unkempt and terrifying, and you just want to dive right into it because that's where life begins.
Happy Thanksgiving…and happy belated 106th birthday to Norman Lloyd.
- Kent Jones
Follow us on Instagram, and Twitter!

SABOTEUR (1942, d. Alfred Hitchcock)
Preserved by the Library of Congress with funding provided by the Hollywood Foreign Press Foundation and The Film Foundation.
A WOMAN UNDER THE INFLUENCE (1974, d. John Cassavetes)
Restored by UCLA Film & Television Archive. Restoration funding provided by Gucci and The Film Foundation.
The Film Foundation
---