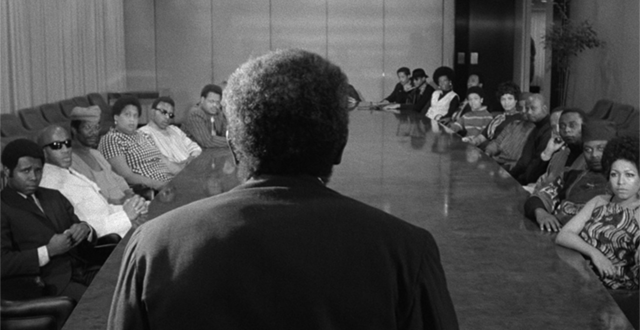 Art House Theater Day
09/18/2019
Celebrate Art House Theater Day on Wednesday, September 18, 2019. Join fans, filmmakers, and hundreds of mission-driven, community-based theaters for a day of truly exceptional screenings and cinematic experiences.
Are you a theater who wants to participate? Visit our enrollment page.
Are you a film fan who wants to attend? Read about our participating theaters.
The Films
In Fabric (2018)
A24
Dir. Peter Strickland
A lonely woman (Marianne Jean-Baptiste), recently separated from her husband, visits a bewitching London department store in search of a dress that will transform her life. She's fitted with a perfectly flattering, artery-red gown—which, in time, will come to unleash a malevolent curse and unstoppable evil, threatening everyone who comes into its path.
From acclaimed horror director Peter Strickland (the singular auteur behind the sumptuous sadomasochistic romance The Duke of Burgundy and auditory gaillo-homage Berberian Sound Studio) comes a truly nightmarish film, at turns frightening, seductive, and darkly humorous. Channeling voyeuristic fantasies of high fashion and bloodshed, In Fabric is Strickland's most twisted and brilliantly original vision yet. (118 mins)
Pre-show: TBD
Trailer, Website, Facebook, Twitter, Instagram
Booking contact: Nicole Weis, nicole(AT)a24films.com and Sean McDonnell, sean(AT)a24films.com
Putney Swope (1969)
American Genre Film Archive
Dir. Robert Downey Sr.
"Funny, sophomoric, brilliant, obscene, disjointed, marvelous, unintelligible and relevant. If anybody tries to improve it, they should be sentenced." — Vincent Canby, New York Times
"I just think [Downey's] one of our great American directors." — Paul Thomas Anderson
New 50th Anniversary restoration by The Academy Film Archive and The Film Foundation with funding provided by the George Lucas Family Foundation! An unforgettable late-'60s counterculture masterpiece, Robert Downey Sr.'s Putney Swope remains a vital provocation on race, pop culture and America. Putney Swope, the only African-American exec at his ad firm, is unexpectedly elected its president and turns the industry on its ear through a series of outrageous, taboo-busting TV commercials (strewn throughout the film like comedic landmines.) As Swope becomes the Generalissimo of Madison Avenue, Downey takes no prisoners and skewers the entire political spectrum. Essential viewing. (84 mins)
Pre-show: Recorded introduction from director Robert Downey Sr.
Website, Facebook, Twitter, Instagram
Booking contact: Bret Berg, bret.berg(AT)drafthouse.com
The Hottest August (2019)
Grasshopper Film
Dir. Brett Story
A complex portrait of a city and its inhabitants, The Hottest August gives us a window into the collective consciousness of the present. The film's point of departure is one city over one month: New York City, including its outer boroughs, during August 2017. It's a month heavy with the tension of a new President, growing anxiety over everything from rising rents to marching white nationalists, and unrelenting news of either wildfires or hurricanes on every coast. The film pivots on the question of futurity: what does the future look like from where we are standing? And what if we are not all standing in the same place? The Hottest August offers a mirror onto a society on the verge of catastrophe, registering the anxieties, distractions, and survival strategies that preoccupy ordinary lives. (94 mins)
Pre-show: Recorded introduction from director Brett Story.
Website, Facebook, Twitter, Instagram
Booking contact: Nick Newman, nick(AT)grasshopperfilm.com
My Twentieth Century (1989)
Kino Lorber Repertory
Dir: Ildikó Enyedi
"It's a bracing combination of wit, invention, common sense and lunacy. It's a gravely comic meditation on civilization at the turn of this century." —The New York Times, Vincent Canby March 17, 1990
30th Anniversary. New 4k Restoration by the Hungarian National Film Archive. Ildikó Enyedi's fairytale-like, unconventional ironic film luminaire was awarded the Golden Camera at Cannes in 1989. On the eve of the 20th century, two twin girls, Lili the anarchist and Dóra a luxurious woman of loose morals, along with Mr. Z. who loves them as an entity, all reach the Hungarian border at the same time on board the Orient Express. Their story, rushing under the spell of Edison's inventions, is a special 'research of happiness', reclaiming the 'mass murdering century' from the restlessly changing world and the miracle of existence. Tarkovsky's fabulous actor, Oleg Yankovsky, performs an unforgettable double with the young Polish actress Dorotha Segda. The complete 4K digital restoration of the film was carried out at the Hungarian Filmlab, supervised by the Hungarian Film Fund – Hungarian National Film Archive in 2017. (89 mins)
Pre-show: TBD.
Booking contact: Jonathan Hertzberg, jhertzberg(AT)kinolorber.com
Vever (For Barbara) (2019)
Video Data Bank
Dir. Deborah Stratman
A cross-generational binding of three filmmakers seeking alternative possibilities to the power structures they are inherently part of. Each woman extends her reach to a subject she is outside of. Vever grew out of the abandoned film projects of Maya Deren and Barbara Hammer. Shot at the furthest point of a motorcycle trip Hammer took to Guatemala in 1975, and laced through with Deren's reflections of failure, encounter and initiation in 1950s Haiti.
A vever is a symbolic drawing used in Haitian Voodoo to invoke Loa, or god. (12 mins)
Booking contact: Zachary Vanes, info(AT)vdb.org
Art House Convergence
---