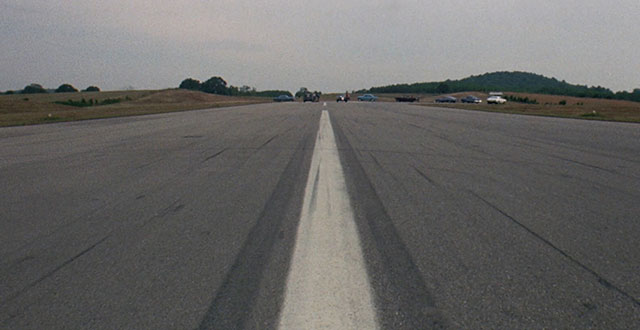 NOTES ON FILM & RESTORATION
04/23/2021
I grew up in a small city in New England that had not one but six movie theatres on its main drag. Two of them were real movie palaces, built in the 20s. One block up was a spacious but more modern theatre, where I saw The Godfather, Chinatown, The Long Goodbye and several hundred other films when they opened. Across the street was a one-time legitimate house with an interesting seating plan. A few blocks in the other direction, tucked into the basement level of a shopping mall/office complex/Hilton tower/parking garage (which, I'm told, was often cited as a textbook example of urban renewal gone haywire), was a tiny 150-seat house that tended to specialize in arthouse films: that's where I saw Day for Night, Scenes from a Marriage and A Woman Under the Influence. Directly across the street, within the local museum, was a theatre that operated only during the summer and also specialized in arthouse releases—I remember seeing the early 70s New Yorker release of Ozu's Tokyo Story there with my parents.
At one point in the early 80s, a multiplex opened on the west side of town—lousy prints badly projected on poorly tended screens, just what we were all clamoring for. Appropriately enough, the quality of the filmmaking got dumber. And one by one, five of the six independent theatres shut down. The biggest of them was left untended by the owner and had to be demolished. It's been replaced by a red-brick "park" with a little sign commemorating the existence of the theatre. The other palace is now a senior center, and the marquee now announces bingo nights and insurance seminars. The bigger modern house is a parking lot. The one-time legit theatre is legit once more, home to a local stage company. The tiny theatre has been gone for so many years that I don't even know what it is now—maybe more parking. Only the theatre in the museum is still in operation. The multiplex went under years ago.
I don't live in Los Angeles, but I love going there, and it's been exciting to see my movies shown on different screens around town—the Aero, the El Capitan, and the ArcLight Hollywood, a truly beautiful, perfectly built cinema. Is someone going to swoop in and save the ArcLight chain? Will private individuals keep the Hollywood theatre and the Cinerama Dome alive? Will the rest of the chain be bought up and incorporated into one or more of the bigger chains, now just beginning to recover their economic footing? Or will they too become senior centers or parking lots or nothing in particular?
To those who love the cinema: it's time to stop counting on "them" to stand up and protect the art form and the conditions in which it was meant to be experienced. At this point, we all have to come together to protect it. We have to do whatever it takes to re-open the theatres that have shuttered and to make sure the ones that are open stay that way. Everybody who's reading this: the art form that you love needs your help.
Earlier this week, Monte Hellman passed away at the age of 91 at his home in Palm Desert. Monte was a truly enigmatic figure, almost sphinxlike at moments. His appearance was arresting: tall, wiry, always dressed in neutral colors, with an exceptionally high forehead that led to a head of hair like Einstein's. His demeanor seemed quite close to James Taylor's in Two-Lane Blacktop—Taylor's driver cared about cars, Monte cared about cinema. He started in theatre, and worked his way into movies—like so many others—by way of Roger Corman. He got the chance to direct his first movie, The Beast from Haunted Cave, thanks to a tried and true Corman formula: when you're on location shooting one movie, you might as well make a second movie (in this case, the location was Deadwood, South Dakota and the other movie was Corman's own Ski Troop Attack, to which Beast is far superior). Monte found himself repeating the exercise twice more, the second time with back to back westerns. The Shooting was the first of Monte's films that I was able to see, and I was enthralled—it was one of the rare instances of high expectations exceeded by reality. Monte didn't get to make that many films. Many of the projects he developed, including Fat City and Pat Garrett and Billy the Kid, slipped through his fingers, and he spent a lot of time doctoring the work of other directors. He never made a bad film, and that includes Silent Night Bloody Night 3. He did make four great ones, which is four more than most filmmakers. Two-Lane Blacktop, which was effectively buried by Universal (Lew Wasserman hated it that much), along with the two westerns and Cockfighter, comprise a rich quartet. Despite their current availability they remain films that are known and loved by few and passed from hand to hand like treasures. Like Martin Scorsese and Hal Ashby, Monte was an editor, and his films have a pulse that beats silently but constantly under the story. Those four films are a part of me, and the same could be said of many other people I know.
- Kent Jones
Follow us on Instagram, and Twitter!
The Film Foundation
---