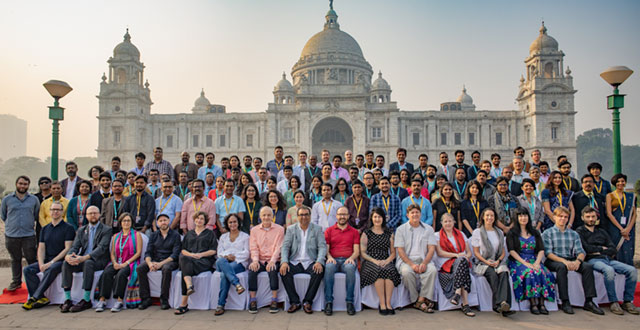 We have lost about 70 per cent of our films
Jaybrota Das 08/14/2018
Award-winning Indian filmmaker, producer, film archivist and restorer Shivendra Singh Dungarpur will organise his next Film Preservation and Restoration Workshop India (FPRWI-2018) in Calcutta from November 15 to 22.
"The reason we are doing it in Calcutta this year is that while Bengal is the home of legendary filmmakers such as Satyajit Ray, Mrinal Sen, Ritwik Ghatak, Ajoy Kar, Tapan Sinha, Tarum Majumdar and so many more, sadly very little has been preserved of this great heritage. This is particularly ironic as Bengal is celebrating 100 years of Bengali cinema this year. We hope that the workshop will wake people up to the urgent need to save their films as our goal is to make a real difference," said Dungarpur.
FPRWI-2018 is an intensive week-long workshop that covers both lectures and practical classes in the best practices of the preservation and restoration of both filmic and non-filmic material that is taught by a faculty of international experts from leading institutions around the world. The workshop usually has about 50 participants and about 25 international faculty and is certified by FIAF. Applications are open to India, Sri Lanka, Nepal, Bangladesh, Bhutan, Myanmar, Thailand and Malaysia.
In the run-up to the workshop The Telegraph had a chat with Dungarpur, who had hosted distinguished filmmaker Christopher Nolan during his visit to India last year on a similar platform to preserve rare cinematic gems.
TT: How widely does such restoration workshops help? Does it only help the film fraternity and films in general or does it allow participation from film enthusiasts?
Dungarpur: When Film Heritage Foundation conducted our first film preservation and restoration workshop in Mumbai in 2015, people were not aware that films needed to be preserved. And we're not talking just about the common man, but also the film industry. When we started the foundation in 2014, we realised that saving our film heritage had to be taken up on a war-footing. Not only had we lost about 70 per cent of our film heritage by the 1950s, we continue to lose films, even contemporary films, every day. We have seen a remarkable change in just a few years. The film industry has begun to comprehend the importance of preserving their films - both photochemical and digital ones. For instance, our foundation preserves the films of Amitabh Bachchan, Shyam Benegal, Govind Nihalani, Mani Ratnam, Farhan Akhtar, N.N. Sippy, Vishal Bhardwaj and many others and by this I mean storing their 35mm prints in temperature-controlled conditions and maintaining them. In just three years we have introduced 150 individuals to film preservation and restoration. We are building a movement to save our film heritage.
• How much change has you been able to bring in the mindset of producers who have not been able to maintain their assets?
• If we have not preserved our films, we will have nothing to restore. The loss of India's film heritage has been colossal. Around 1,700 silent films were made in India of which the National Film Archive of India (NFAI) have only five to six complete films and 15 to 20 films in fragments. The film industry in Madras made 124 films and 38 documentaries in the silent era. Only one film survives, Marthanda Verma (1931). By 1950, India had lost 70 to 80 per cent of our films. And we don't have to go so far back. Gulzar Saheb could not find the original negative of Maachis, a 1995 film. Mani Ratnam has lost many of his original negatives, which people do not realise, still need to be preserved even if you have a digital copy. The only world-class restoration of Indian films have been the restoration of Satyajit Ray's Apu Trilogy that was done by the Academy of Motion Picture Arts & Sciences and the Criterion Collection, Uday Shankar's Kalpana and Ritwik Ghatak's Titas by Martin Scorsese's The Film Foundation's World Cinema Project.
• What are the procedures involved in restoring a film?
• The approach is the same as restoring a work of art or a manuscript. You don't work on a photocopy, you restore the original. For instance in the case of the Apu Trilogy, the original negatives were burnt in a studio fire, and months were spent on the repair of these negatives before getting into the process of digital restoration. The task of restoration involves studying the film and its production history, understanding the filmmaker's vision or his limitations, knowing the work of the cinematographer, the art director, the costume designer, etc.
The Telegraph
---