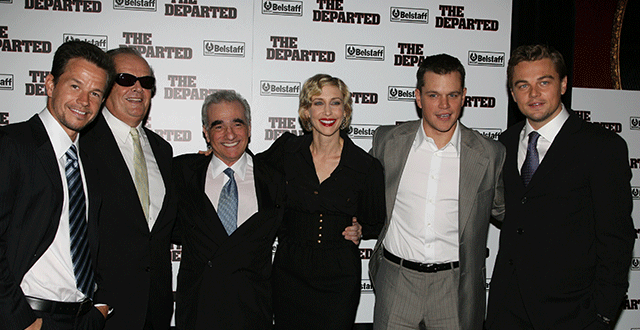 THE DEPARTED PREMIERE BENEFITS THE FILM FOUNDATION
09/27/2006
On Tuesday, September 26th, Warner Bros. hosted the premiere of Martin Scorsese's new film THE DEPARTED at the Ziegfeld Theater in New York, with an after-party at Guastavino's. The evening benefited Scorsese's non-profit film preservation organization, The Film Foundation.
Set in Boston, the tightly-paced film tells the tales of two undercover informants - one a member of the local crime syndicate who has infiltrated the State Police, the other a State Trooper who's gone deep undercover as a criminal in the syndicate. When it becomes apparent to both the police and the mob that moles are in their midst, each informant must race against time to discover the other's identity.
The film stars Leonardo DiCaprio, Matt Damon, Jack Nicholson, Mark Wahlberg, Martin Sheen, Ray Winstone, Vera Farmiga, Alec Baldwin, and Anthony Anderson, many of whom were among the guests at the premiere.
A special thanks to the Leonardo DiCaprio Foundation, DirecTV, Absolut, Bloom Hergott Diemer Rosenthal & LaViolette, Endeavor, the Firm, and Technicolor/Thomson for their support of the evening.
PICTURE: (from left to right) Cast from THE DEPARTED: Mark Wahlberg, Jack Nicholson, director Martin Scorsese, Vera Farmiga, Matt Damon, and Leonardo DiCaprio
Press Release
---
News Archive
2021
2020
2019
2018
2017
2016
2015
2014
2013
2012
2011
2010
2009
2008
2007
2006
2005
2004
2003
2002
2001
1999
1998
1995
1990
---
---
Back to News