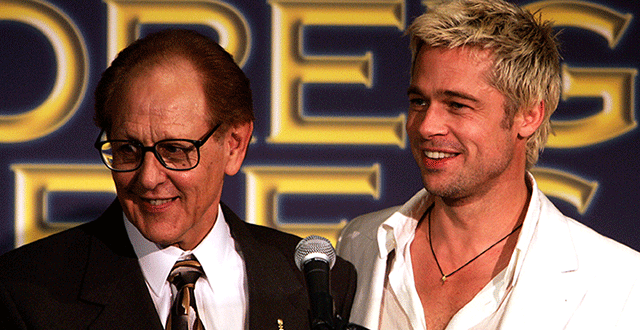 HFPA Charity Luncheon
Elizabeth Snead 07/28/2005
Golden Globes aren't the only things the Hollywood Foreign Press Association hands out. At the org's annual summer luncheon, Brad Pitt, Jack Valenti, Kevin Bacon and other luminaries stopped by the Beverly Hills Hotel to pick up checks worth $1.5 million for assorted good causes.
It was Pitt's first public appearance since being hospitalized for viral meningitis, and the tanned actor certainly looked the picture of health. But he didn't stay for lunch, skipping out after HFPA prexy Philip Berk handed over the funds. "On behalf of Martin Scorsese and the Film Foundation, I want to thank the Foreign Press for your generosity, leadership and unwavering commitment to film preservation," Pitt said. "And, personally, thanks for the money."
Industryites who missed Valenti's signature cheery yellow shirt were once again treated to the ensemble. The former MPAA chief showed up to accept for the Anne and Kirk Douglas Playground Grant Awards, which builds playgrounds in L.A. public schools. "(Kirk) has been a star for 60 years, and he would be here today except he is home recovering from two knee replacements. Only Spartacus could make that kind of commitment."
Also on hand were Ziyi Zhang for FilmAid International, Bacon for Film Independent, Sally Field for the Sundance Institute and "Happy Endings" star Jesse Bradford for Columbia University film scholarships.
Variety
---