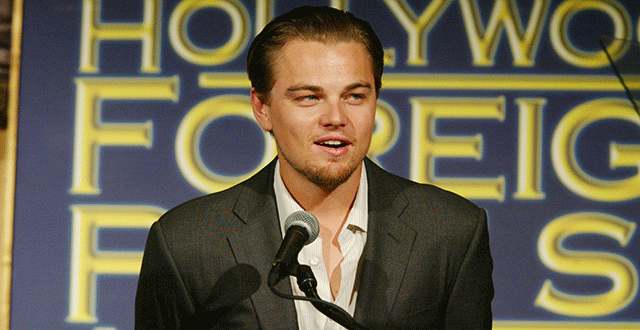 HOLLYWOOD FOREIGN PRESS ASSOCIATION RENEWS ITS COMMITMENT TO FILM PRESERVATION
08/11/2004
The Hollywood Foreign Press Association (HFPA) renewed its 2004 commitment to film preservation by making a $200,000 donation to The Film Foundation. The contribution was accepted by Foundation supporter Leonardo DiCaprio at the HFPA's Annual Installation Luncheon on August 11th at the Beverly Hills Hotel.
On behalf of The Film Foundation's Board of Directors, Leonardo DiCaprio thanked the Hollywood Foreign Press Association for "its generosity, leadership and commitment to the cause of film preservation." In addition, he praised HFPA for the 1.4 million dollars they have contributed over the past nine years which has helped fund the restoration/preservation of over 50 feature films, including such major restorations as John Cassavetes' FACES (1968 ), David Lynch's ERASERHEAD (1977), Stanley Kubrick's PATHS OF GLORY (1957), and John Ford's HOW GREEN WAS MY VALLEY (1941), among many others.
This year's generous contribution funded the landmark restoration of legendary director Jean Renior's THE RIVER (1951). Considered by many to be one of the most strikingly beautiful films every photographed in 3-strip Technicolor, the film focuses on the childhood of an English girl coming of age in India and grappling with familiar Renoir themes: love and hate, life and death, decay and renewal. The film has been virtually out of circulation for decades, the original negative held in London at the British Film Institute (bfi). This restoration is a unique collaboration between BFI, the Academy Film Archive, Janus Films, The Film Foundation and the HFPA.
Press Release
---
News Archive
2021
2020
2019
2018
2017
2016
2015
2014
2013
2012
2011
2010
2009
2008
2007
2006
2005
2004
2003
2002
2001
1999
1998
1995
1990
---
---
Back to News