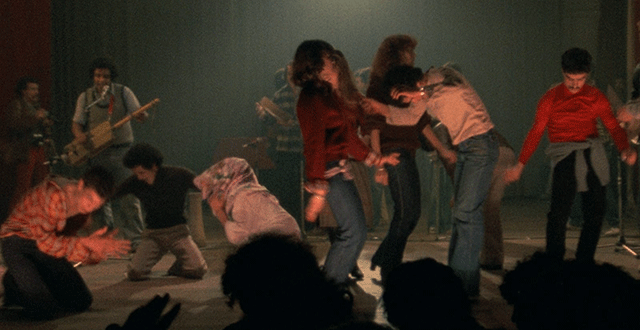 COMMEMORATING 30 YEARS OF TFF
10/28/2020
The first title that was restored under the banner of The World Cinema Project in 2007 was Ahmed El-Maânouni's Trances, or El Hal, from Morocco. The film had a very particular meaning for Martin Scorsese, who caught it for the first time in 1981 on the USA Network. It was part of a then brand new show called "Night Flight," which ran through the late night hours and mixed music documentaries, regular segments like "New Wave Theater," early rock videos and episodes of old Monogram movies with Bela Lugosi and cartoons from Fleischer Studios and Ub Iwerks—in the old rock clubs, the DJs used to put segments together between bands that were often comprised of films of that vintage together with music by, say, The Residents or Pere Ubu. Marty was cutting The King of Comedy by night with Thelma Schoonmaker when he saw Trances that first time, and it really obsessed him—the sound and the image.
The classification of Trances as a documentary doesn't quite do it justice. Because the film doesn't just document the music of the legendary band Nass El-Ghiwane, but actually responds to it: one artistic form generates another. This is broadly true of any good music documentary, but the hallucinatory flow of El-Maânouni's images is an intimate response to the flow of the music, itself a response to the collective spirit of the nation during the first years of independence. The band, which became known as "The Rolling Stones of Morocco," began in theatre: the band members were part of the Municipal Theatre of Casablanca in the early 70s, and their first songs were created for the company's stage productions. Laarbi Batma, Boujemaa Hagour, Omar Essayed and Allal Yaala (Moulay Abdelaziz Tahiri joined later and Maalem Abderrahmane Baca joined in 1974 following Boujemaa's death from lung cancer) came from all over Morocco, and they sang of everyday life, the hardships of men and woman trying to make a living—no small thing in a de-colonized monarchy. The name they gave themselves roughly translates as "disciples of the Ghiwanes," a brotherhood of Sufi storytellers, and they drew from Berber rhythms, Melhoun sung poetry and Gnawa dances. They played only traditional acoustic instruments: bendir, sentir, frame drums, ghimbri, tambourines, derbouka, and, from the west, a fretless banjo. But as Scorsese says, the sound of their trance music is so big and powerful that you'd swear you're hearing electric guitars. As you can see in the film, the connection between Nass El-Ghiwane and their audience ran so deep that the authorities stepped in to contain and often shut down the concerts—they'd never seen anything remotely comparable.
If you don't know this film and the music that inspired it into being, you should sit down and watch and listen: it sings the spirit of common life at an exalted level.
- Kent Jones
Follow us on Instagram, and Twitter!
The Film Foundation
---
News Archive
2021
2020
2019
2018
2017
2016
2015
2014
2013
2012
2011
2010
2009
2008
2007
2006
2005
2004
2003
2002
2001
1999
1998
1995
1990
---
---
Back to News