the story of movies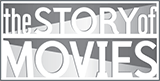 The Story of Movies (storyofmovies.org), TFF's innovative educational initiative, is the result of a partnership of filmmakers and educators to create a curriculum to help students better understand the language of film.
By introducing young people to classic cinema, the program encourages an appreciation of film as an artistic, cultural and historical document, leading to an awareness of the importance of artist's rights and the need to protect our motion picture heritage.
Each curriculum unit, distributed completely free of charge, includes a Teacher's Guide; a Student Activity Booklet; a DVD of the film; and a supplemental DVD with material to illustrate concepts introduced in the lessons. To date, the program has been used by over 100,000 educators at more than 40,000 schools across the country.